Jump to page sections
Zenith Energy as a Possible Investment
Initial date of publishing: 2022-01-31.
Here is a brief summary of pros and cons for the stock Zenith Energy Ltd. "Zenith Energy"/ZENA on Oslo Stock Exchange (OSE / Oslo Børs) and the London Stock Exchange. One of the (former?) board members is Norwegian, hence the reason why it's on OSE.
Friendly tip: Don't put in more than you can afford to lose. This post comes with a big WARNING sign attached.

Cons
The stock is subject to attention from a circle of investors, making it potentially behave extra irrationally. "Stupid investors". This stock is currently not ruled by "smart money".
Quite frequent share issues that water out the stock. (Norwegian: "emisjon".)
Low liquidity.
High volatility.
Questionable morals in the leadership.
Very high risk.
Irrational behavior in the stock.
The stock is subject to heavy speculation.
You can lose most, or all, of your money.
They operate in Africa (Tunisia and the Republic of the Congo) with the increased risk this continent typically represents. Conditions and terms are not necessarily always orderly.
They still have not acquired a license in the Republic of the Congo. No oil there yet. It has been pending for a year and a half.
The Tunisian government is taking long (years) to decide/approve licenses and purchases of (parts of) fields.
They have some risky plans in Nigeria. A quite mismanaged African country.
This is both a pro and a con: It's a penny stock.
Pros
The stock is potentially undervalued, has a bad reputation, and is somewhat ridiculed. You can argue that there's an "upside" in the stock.
Their production cost for one barrel of oil is about 20 USD. Oil price at the time of writing is well over 80 USD, meaning a 60+ USD margin.
A pessimistic estimate is that they produce about 500 barrels per day, a little more, based on their reports. This means they have started to make money. $60 * 500 = 30,000 USD per day, simplifying grossly. Based on weekly production numbers from Tunisia, the average for 1 year is 539 barrels a day. You should know: According to the CEO, they need to "fill a ship" before they sell, so the oil price at any given moment is not relevant.
They make steady, good money from gas in Italy. With gas prices as of January 2022, this is very good business at the moment. The last 4 months, Zenith has made in excess of 200,000 Euro per month, net.
Their CEO, Mr. Andrea Cattaneo Della Volta Cattaneo Adomo, appears to have many connections around the globe, facilitating making deals and getting funding.
Share issues appear to be for reasons, such as developing the company and investing in growth. Plus, investors have backed up the subscriptions of new shares / share issues. The last share issues were backed by Norwegian and British investors.
Potentially high rewards.
They have actual production and sales of oil barrels. They are making money today.
Possibly an unrealized potential for growth from the current 168 million NOK (Norwegian kroner) in market cap value.
If Zenith acquires the license in the Republic of the Congo, they will potentially increase production with somewhere around 1000-5000 barrels over time. This is more speculative, but acquiring the Congo license would be good news for Zenith.
On October 25, 2021, Zenith announced that they successfully drilled in a location where nothing had happened since 2012. This increased production from about 80 to 120 barrels. The management is hoping for about 20 % higher production by performing similar "workover" drillings.
This is both a pro and a con: It's a penny stock.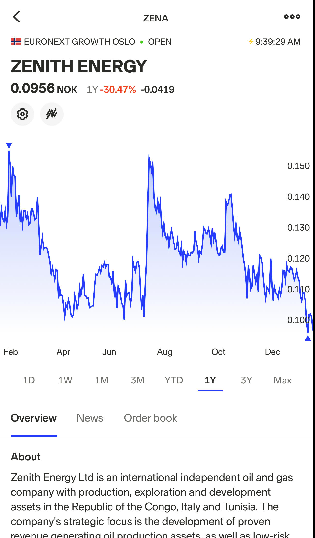 General Considerations/Facts
Zenith Energy owns shares of fields. The fields' total production of oil barrels is higher than that which Zenith manages.
Zenith Energy is planning to purchase 22.5 % of an oil field in Tunisia (Sidi El Kilani), but the Tunisian government has spent 1.5 years without yet having approved the purchase.
Zenith currently owns 22.5 % of the Sidi El Kilani field through another company that they bought shares in, which is now a daughter company of Zenith Energy. The Tunisian government did not allow a direct purchase of shares of the oil field, so Zenith Energy bought the owner company.
Finance
Finans
Stocks
Aksjer
Investing
All Categories
Google custom search of this website only
Minimum cookies is the standard setting. This website uses Google Analytics and Google Ads, and these products may set cookies. By continuing to use this website, you accept this.
If you want to reward my efforts